As you know, microgreens are quite healthy. However, it is difficult to find it in regular stores. Therefore, people are increasingly engaged in growing microgreens on their own and selling them afterward. Read more about the most profitable microgreens in this article.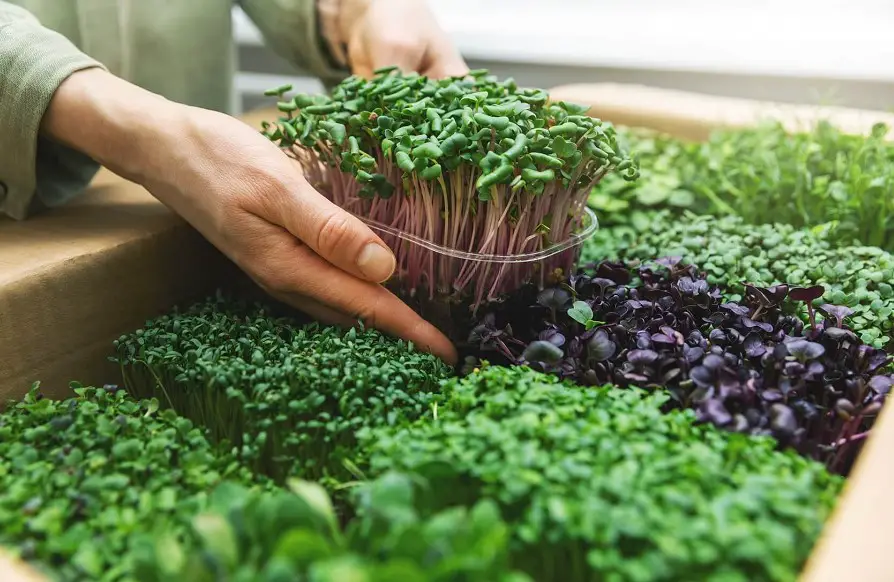 Business profitability of microgreens
Before jumping into the most profitable microgreens, you should familiarize yourself with the benefits of the microgreens business. In recent years, healthy eating has become in greatest demand. More than 50% of the US population tries to stick to a healthy diet.
Almost 30% of the country's residents believe that a healthy diet contributes to the fight against stress. The same percentage of the population believes that the emphasis on plant foods helps them be healthy and energetic.
With the market demand for microgreens on the rise, more growers are deciding to meet the market demand.
The microgreens business is quite profitable, even though no significant investments are required to develop it. Particular attention should be paid to the choice of equipment that is required in the process of building a microgreens business. The list of required items includes:
microgreen seeds;
growing medium;
containers;
sprayer and tools for harvesting;
high-quality lighting.
If you have space at home and don't need to rent a space, you can spend just about $1,000. If you prefer expensive and high-quality tools, you have to spend more money.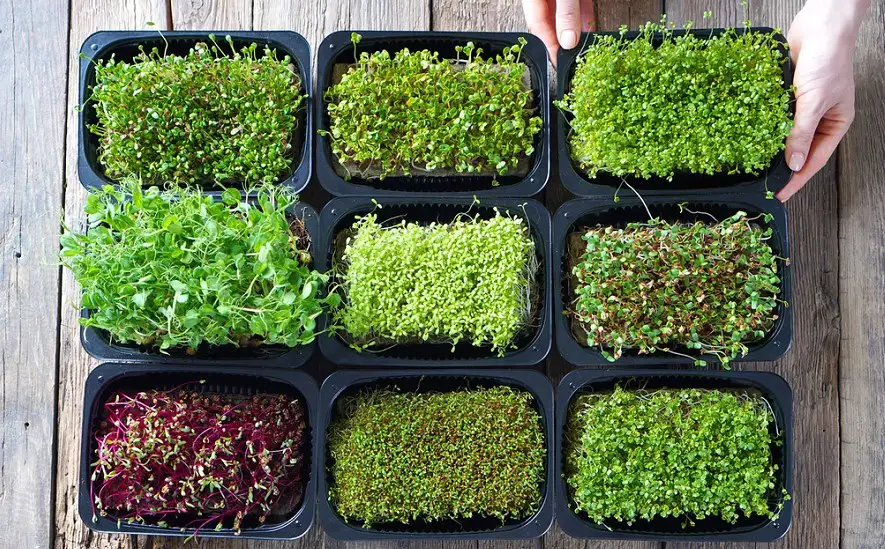 Business benefits of microgreens
Quite often, people are trying to understand what exactly is the rationale for growing microgreens on an industrial scale. The microgreens business has certain advantages.
Small initial investment
To start growing microgreens, you need a few things at first. You can start with a few compact containers and then gradually scale up production from a profit. On average, one container costs several dollars.
Microgreens sold may initially be to a single store or restaurant. If you plan to grow microgreens in large quantities, you can send supplies to local farmer's markets or local grocery stores.
Growth rate
Microgreens are very easy to grow because they grow quickly. On average, microgreens take several weeks to grow, and you won't have to wait months for them to mature.
Thanks to the rapid growth of microgreens, you can experiment with different varieties.
You can then track how many microgreens are sold, so you can then focus on profitable microgreens. Be prepared for microgreen sales to vary throughout the year.
The ability to grow microgreens, regardless of the season
You can grow microgreens even if you do not have the opportunity to equip a greenhouse. You can grow greens all year round and supply them to your local market, no matter the weather. Therefore, you have a constant source of income if you grow the most profitable microgreens.
Nutritional value
As you know, fresh greens are rich in minerals and vitamins. Therefore, it is in constant demand from people who monitor their diet.
The high price of the goods
Profitable microgreens constantly give you a source of income, which is associated with increased demand for the product. If you are the only supplier in the local market, you can raise prices when you see fit.
Area variation
If you decide to start growing microgreens, prepare the site. Given those microgreens are grown in small containers, you won't need a separate building. Enough free room or a basement.
You can install shelving in the room to vertically place containers and save space. If placed in a 60-square-foot room with 4 shelves, you get about 50 pounds of the most profitable microgreens every 2 weeks.
If you sell profitable microgreens for $20 per pound, you'll make about $2,000 each month. On average, each container yields about 6 ounces of finished microgreens each time.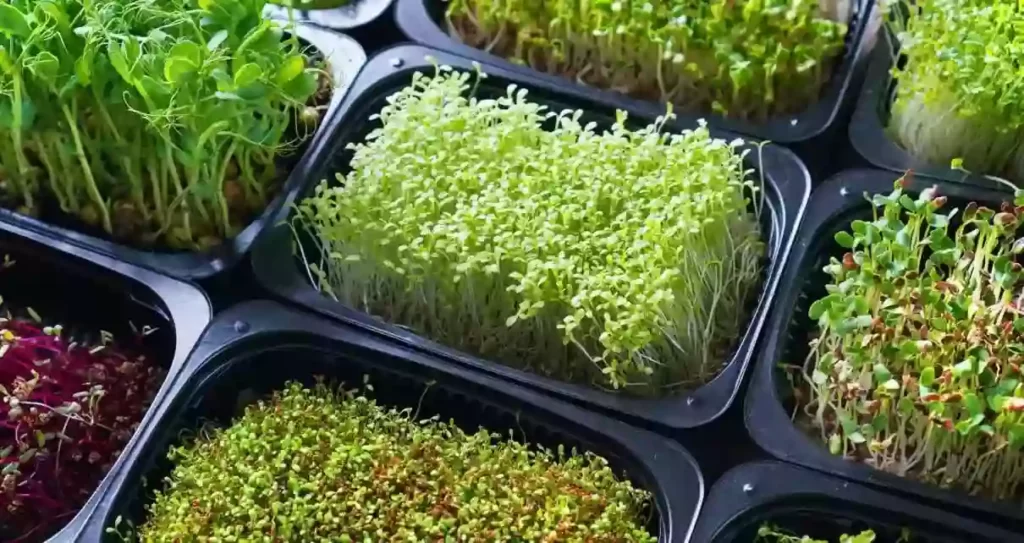 How to start a microgreen business?
If you decide to start a microgreen business, then there is no income unless you find clients for yourself. That is why, before starting a microgreens business, it makes sense to research the local market and find customers. This determines how profitable the process of growing profitable microgreens is.
Features of customer search
If you decide to grow the most profitable microgreens, then it is better to spend time looking for customers. Try to communicate more with people who are interested in the product. There are different options for distribution channels. To increase income, you can combine several channels.
Local chefs
To sell the most profitable microgreens, you first need to create a product information card. Provide a list of the microgreens you grow, as well as item prices. You can specify how the goods are ordered.
Print out an information card. Choose thick paper so that potential customers don't throw it away. If the most profitable microgreens are in demand, you can discuss a permanent order with the client.
Farmers markets
You can go to the local farmer's market to find customers there. Successful growers of microgreens, who supply the product to the local market, make good money. Especially if there are no competitors in your area.
Grocery stores
Given that microgreens are in huge demand, groceries are often looking for potential suppliers. You can become one of them if you take the initiative. By growing the most profitable microgreens, you can make good money. This is the best option if customers prefer local products.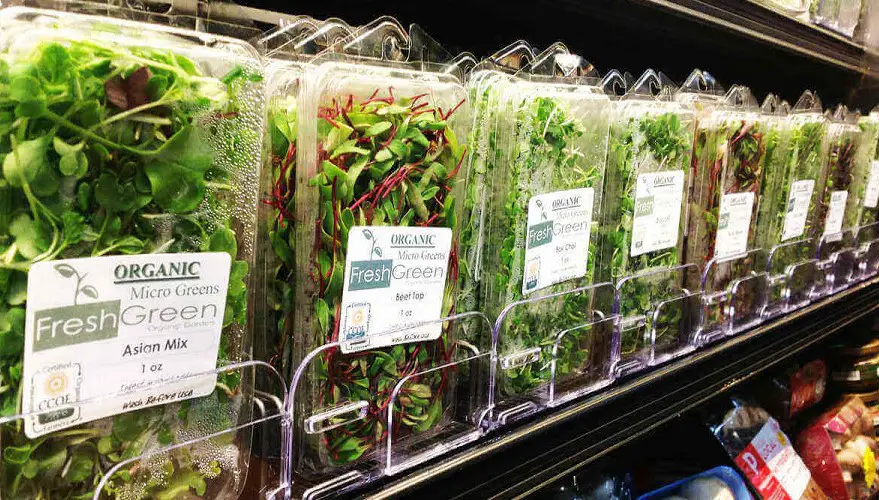 Search for information
If you want to grow profitable microgreens to get a good profit later, it is better to look for all the necessary information in advance. You can search for information about the most popular sellers on different sites. You can also take courses to help improve your microgreen business.
Use of different varieties
Be prepared for the fact that at first, you have to spend time and effort experimenting with growing different microgreens varieties. It is important to change the intensity of lighting, growing temperature, as well as seed density. This allows for finding the optimal technology for growing profitable microgreens.
Record keeping
If you decide to go into microgreens production, it is important to keep records. For simplicity, it's best to create a spreadsheet that you can open on your phone at any time.
Each profitable microgreen is best kept on separate pages.
It is important to indicate the varieties and where they were purchased. Make a note of how long the seeds soak and also when the containers fill up. Write down exactly how you plant the seeds and under what conditions you grow them.
Sale of goods
As you know, profitable growing microgreens is not difficult. Difficulties may arise when you start selling. To make a profit, you have to sell at least 90% of the goods. Potential customer options have been described above.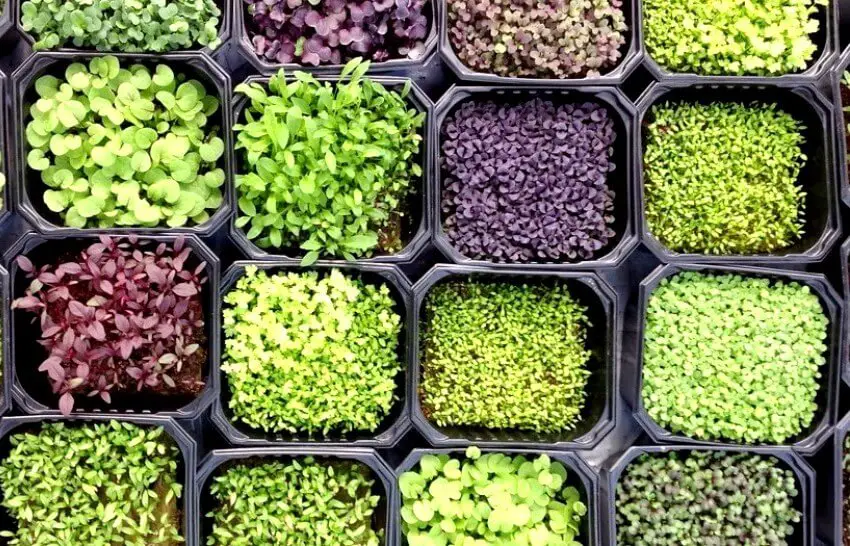 The principle of microgreen evaluation
For microgreens production to generate income, it is recommended to determine the price of the product.
Microgreens growers must first determine exactly how much they want to receive from the sale of microgreens.
You should start with how much you would like to receive for each hour of your work. After that, you need to calculate the costs.
If you want to earn about 50 dollars per hour, then you need to understand that each container is given about 30 minutes.
According to statistics, you spend about $15 on equipment, taxes, and electricity bills. Therefore, you need to set a price so that you receive about $35 from each tray.
First, you need to set the minimum cost. If there are few competitors in your area, you can increase the price in the future.
However, it makes sense to do this if the demand from buyers does not decrease.
If you notice that buyers are not ready to spend the amount you set, then you have to reduce the cost of commercial microgreens.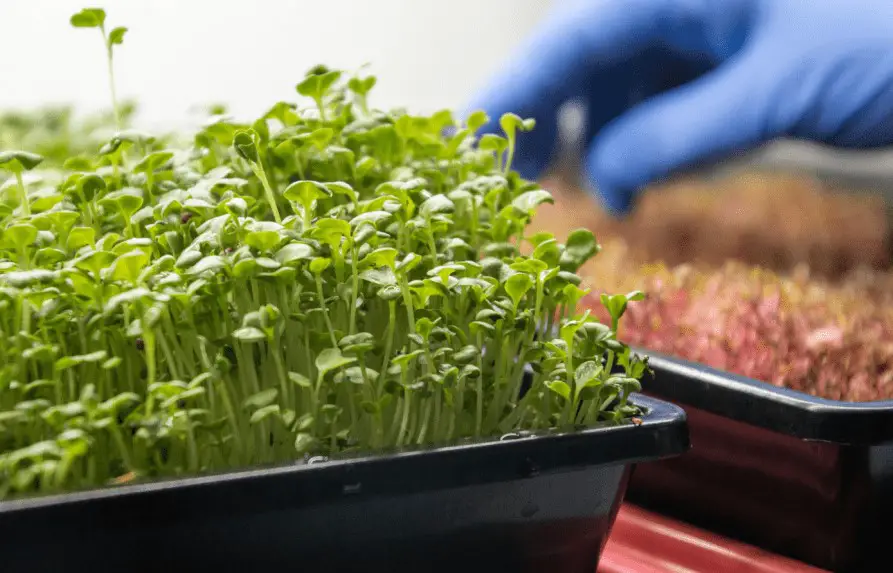 What varieties of microgreens are profitable?
You need to understand that commercial microgreens come in several varieties. If your microgreens farm is to generate income, these are the varieties to look out for.
Radish microgreens and salad mix
It is important to note that growing radish microgreens is easy. At the same time, even at low costs, you get an excellent harvest.
Radish microgreens have a pleasant peppery flavor that most customers definitely like. An additional plus of this microgreen is its high nutritional value.
If you're looking for microgreens for profit, salad mix is a win-win. This microgreen variety is not as intense in taste as the others, however, it is in huge demand. A salad mix is appropriate for those who prefer to prepare smoothies or salads.
The culture is multifaceted in appearance and texture. You can combine it with arugula, cabbage, and mustard. If desired, you can form the perfect mix of salads for yourself.
Pea shoots
Many people like to grow pea shoots because they give a stable and good harvest. Pea shoots are appropriate for exotic dishes, and you have chefs from the restaurant as potential customers.
Children also do not mind eating pea shoots. This is because they have a delicate taste reminiscent of green peas. If you can't immediately sell the entire batch of pea shoots, you can put them in the refrigerator where they are stored.
An important advantage of pea shoots is that they grow quickly. Therefore, it is enough to plant one tray and harvest from it the whole season.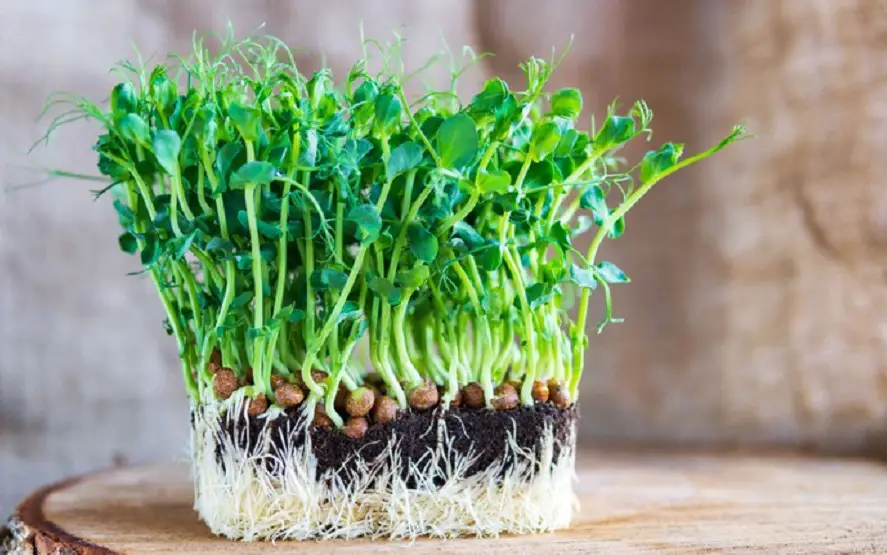 Sunflower microgreens
Many people like to grow sunflower microgreens. They are very famous, so it is not difficult to sell them. You can supply sunflower microgreens to both shops and private establishments.
Sunflower microgreens have a pleasant taste, in which notes of nuts are felt. Many people like sunflower microgreens for their sweetness as well as their crunchy texture. Given that sunflower microgreens are heavy, each tray generates quite a lot of profit.
You can store sunflower microgreens in the refrigerator for several weeks.
They are ideal for salads.
Broccoli microgreens
Broccoli microgreens are in great demand. According to statistics, a quarter of the entire microgreen market is filled with broccoli microgreens. This variety is distinguished by a large number of nutrients, as well as a pleasant taste.
For this reason, the demand for broccoli microgreens is quite high. According to a study by the National Center for Biotechnology, growing broccoli microgreens requires almost 300 times less water than other species. It doesn't take much time to grow either.
Growing broccoli microgreens does not require the use of chemicals. Harvesting can be done within 1-2 weeks after sowing. You can harvest when the profitable microgreens are 2 inches tall.
Arugula microgreens
In the category of the most profitable microgreens is arugula. This is the best solution for beginners since the time from sowing to harvest is only one and a half weeks. Arugula is in great demand when preparing fresh salads.
Arugula microgreens have a pleasant spicy flavor with nutty notes. You can harvest when the plants are 1-3 inches tall. It is believed that arugula is a natural aphrodisiac and also helps fight various diseases.
Studies have shown that arugula microgreens contain a high concentration of nutrients. It also contains substances that help fight cancer. The composition also contains fiber. The content of calcium and potassium should be noted too. There is vitamin A, as well as ascorbic acid.
Arugula microgreens are the best option for pregnant women. This is because it contains folic acid.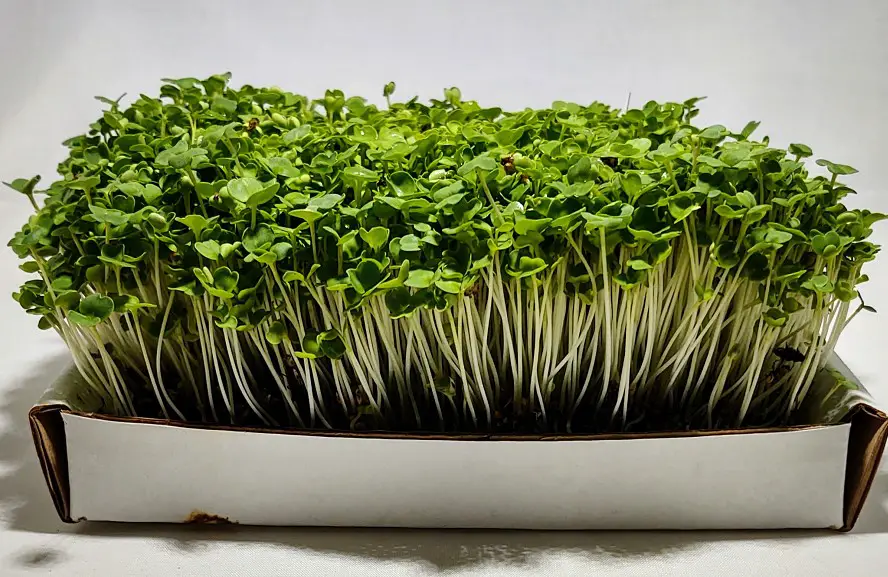 Mustard microgreens
The popularity of mustard microgreens is caused by the fact that the culture has a pleasant and rich aroma. There are a few nutrients in it. Mustard microgreens are sweet and spicy, making them perfect for dinner.
Mustard microgreens take from 5 days to mature. Harvesting is done when the plants are 1-3 inches tall. It is believed that mustard microgreens promote intensive hair growth. At the same time, they help to cope with diabetes and other serious diseases.
Cabbage microgreens
Fortunately, the range of cabbage microgreens is substantial, and everyone can find the best option for themselves.
You can plant green cabbage or Chinese cabbage microgreens. Many people like the taste of red cabbage microgreens.
Its main advantage is that microgreens have a rich scarlet hue. Therefore, it is an ideal decoration for salads. Chinese cabbage microgreens have an intense flavor that appeals to most customers.
The cost of cabbage microgreens differs, depending on the variety grown. On average, harvesting can be done as early as 5 days after sowing. As soon as the cotyledon leaf plates open, you can start harvesting.
Cabbage microgreens contain a high concentration of polyphenols, as well as glucosinolates.
These components help reduce bad cholesterol in the blood, which has a positive effect on the health of the cardiovascular system. Therefore, cabbage microgreens are in great demand in the market.
Edible flowers
Many people like to grow edible flowers as microgreens. They are the best option for those who like to experiment with serving dishes. Such microgreens are in demand in restaurants.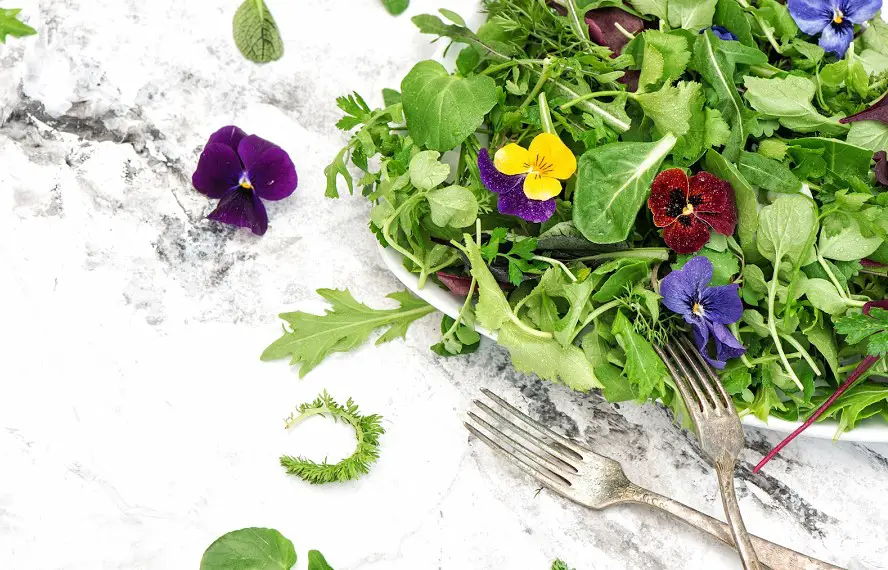 How to run a profitable microgreens business?
If you're looking to get into profitable microgreens, here are some tips to help you.
Selection of popular varieties
To get real profit from growing microgreens, you should opt for popular varieties.
Therefore, it is better to focus on the varieties that were described earlier. Market analysis should also be carried out to meet the demand of buyers.
Seed selection
To make real profits from your microgreens business, choose organic seeds. They should not contain GMOs or chemicals used for processing. The better the seed material, the higher the demand for the product. After all, most buyers like natural and organic plants that benefit the body.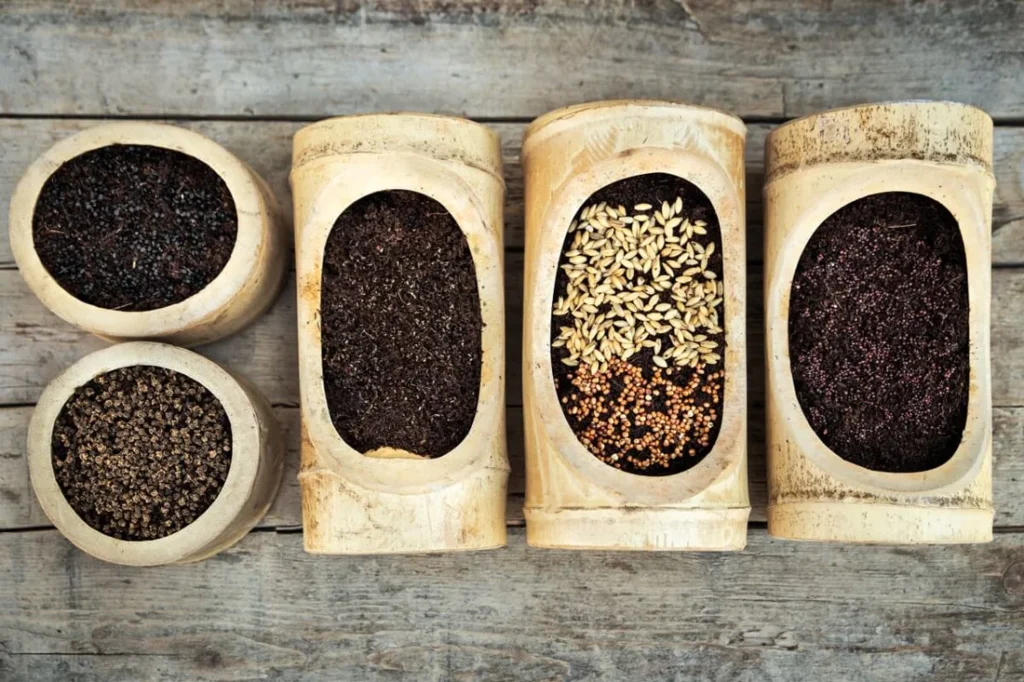 Proper storage of microgreens
As you know, it is not always possible to secure microgreens sell immediately. For the product not to deteriorate, it must be stored properly.
Fresh microgreens are in high demand, and the price is an order of magnitude higher.
When you harvest, be careful not to damage it. Do not wash microgreens before selling. After all, it does rot faster.
Storage should be in bags or plastic containers. You can also choose containers that decompose over time.
Microgreens should be stored in the refrigerator. This way, the plants retain their freshness for 7-10 days.
As you know, today many people use social networks. Therefore, you can run your advertisement to attract potential customers.
If you choose the right platform, then profit indicators constantly grow.
You can also start your own personal social media channel where you talk about the features of growing microgreens. Believe me, this attracts additional interest to your microgreen farm, and you will increase the number of customers.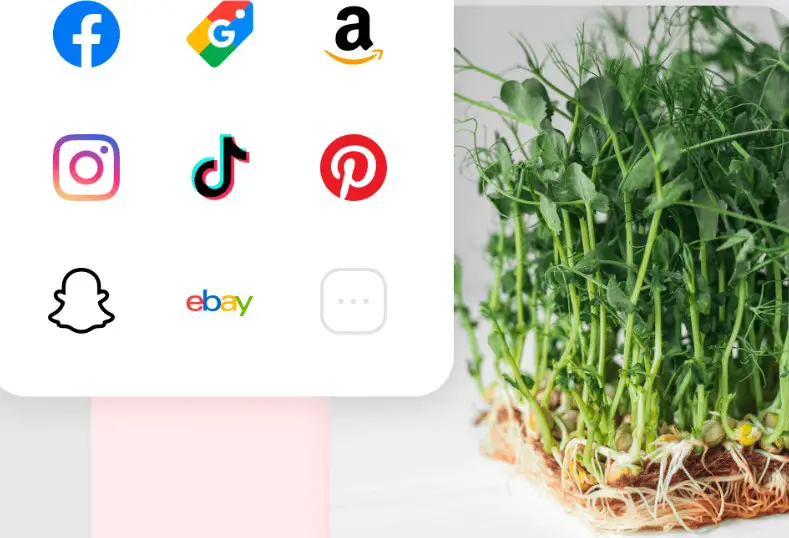 FAQ
As you know, the microgreens business is in great demand because few dare run it. Therefore, various issues related to the process are not excluded. Detailed answers to the questions will be provided below.
What is the most profitable microgreen to grow?
The most popular microgreen category includes radish, cabbage, and sunflower microgreens. These are the best plant options for making smoothies and salads.
What are the best-selling microgreens?
The best-selling microgreens are sunflower microgreens. The plants contain a lot of protein, as well as vitamin B. The culture has a pleasant sweet taste.
How profitable are microgreens?
Microgreens make a good profit if you get the right customers to sell to. On average, the price for 1 pound of microgreens can exceed $50.
Are microgreens still profitable in 2023?
Yes, microgreens are profitable in 2023. At the same time, you can grow them even on your site.
Results
As you can see, the microgreens business allows you to make good profits. The main thing is to follow all the tips on growing and selecting clients. Also, do not immediately set a high price. The increase is relevant when you develop a client base.
Learn More: Are Microgreens Profitable?