Microgreens are a special topic in food science. Although the most popular option is to eat microgreens raw, many of us are interested in cooking with them. So, can you cook microgreens?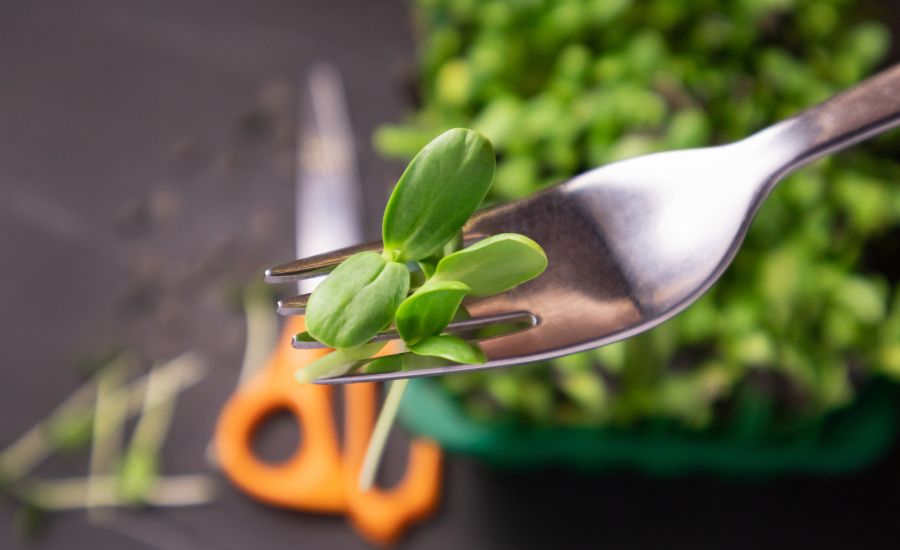 Can you cook microgreens?
The answer is definitely "yes"! You can cook microgreens in multiple ways and add them to many dishes. However, it is essential to know a few secrets to keep all benefits from cooked microgreens.
What are microgreens?
Microgreens are young and fresh seedlings of some edible plants, herbs, and vegetables. Unlike fully grown plants, they are grown for harvesting and eating at 7 to 10 days after germination.
Some people confuse microgreens with sprouts that are not the same.
While microgreens germinate in the soil and need about a week to be harvested, sprouts are grown in water and need 1-2 days to grow little undeveloped leaves.
Growing microgreens is not difficult. You can do it at home, either for home harvesting or for starting your own microgreens business.
Although people most often prefer to eat microgreens raw, you can cook them as well.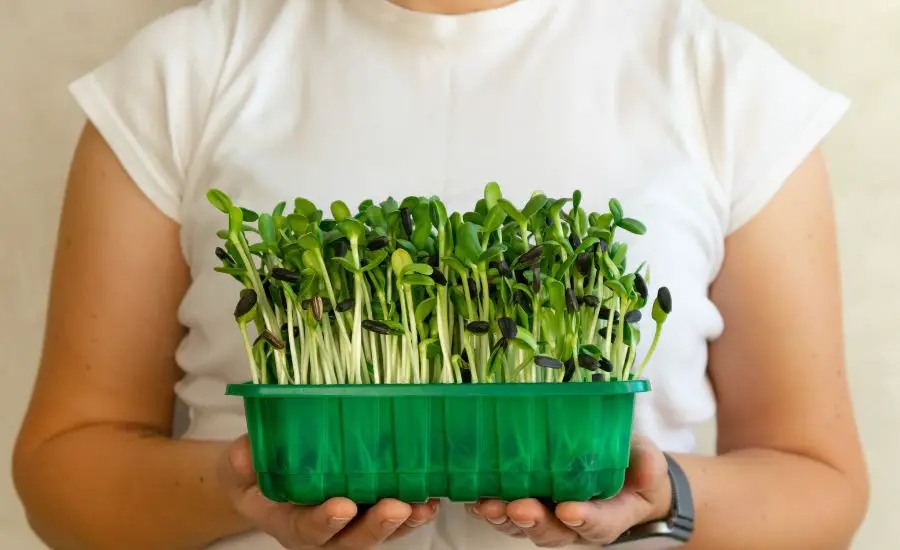 Which plants can be microgreens?
You can easily buy seeds for microgreens at any local grocery store or internet marketplace. They are not expensive and easy to grow.
Here are the most popular microgreens varieties:
Arugula
Basil
Broccoli
Beet
Cabbage
Cilantro
Daikon
Garnet amaranth
Kale
Mustard greens
Pea shoots
Radish greens
Spinach
Swiss chard
Watercress
Wasabi
Wheatgrass
What are the benefits of microgreens?
While young and fresh, microgreens are extremely rich in nutrients.
On average, microgreens have 4 to 6 times higher nutritional value than mature plants.
That's why it is always the best idea to eat microgreens raw. However, you can also learn the right way of preparing microgreens, keeping them nutrient-dense.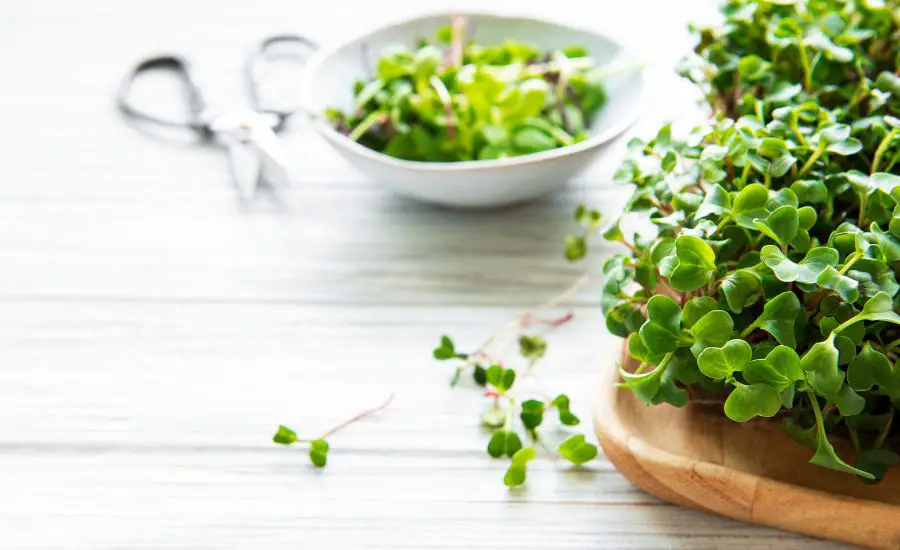 Where can you add microgreens?
You can use microgreens in multiple ways to add some unique flavor, texture, and look to your meal. They are always a delicious option for your recipes. Lots of recipes call for adding microgreens.
Add them to soups, salads, sandwiches, stir-fries, pizzas, omelets, and smoothies. Use them as a garnish or season your food, make a microgreen powder, or decorate your dish with fresh herbs.
What is the right way to cook microgreens?
Since the main point of microgreens is to be a natural food source of vitamins and minerals, they should be cooked smartly.
Avoid too much heat that can kill essential vitamins. For example, vitamin C is destroyed by heat.
The heating process softens the texture of your microgreens.
That's why it is better to consume fresh microgreens than cooked ones.
One more feature of microgreens is their crunchy texture. So, if you think about freezing and thawing microgreens, keep in mind that you will impact their texture. Once frozen and then thawed, microgreens lose their crunchiness and become quite messy. So, always try to keep your microgreens fresh rather than frozen.
The optimal way of cooking for microgreens is no more than 15 minutes at a constant temperature of about 140-180 °F.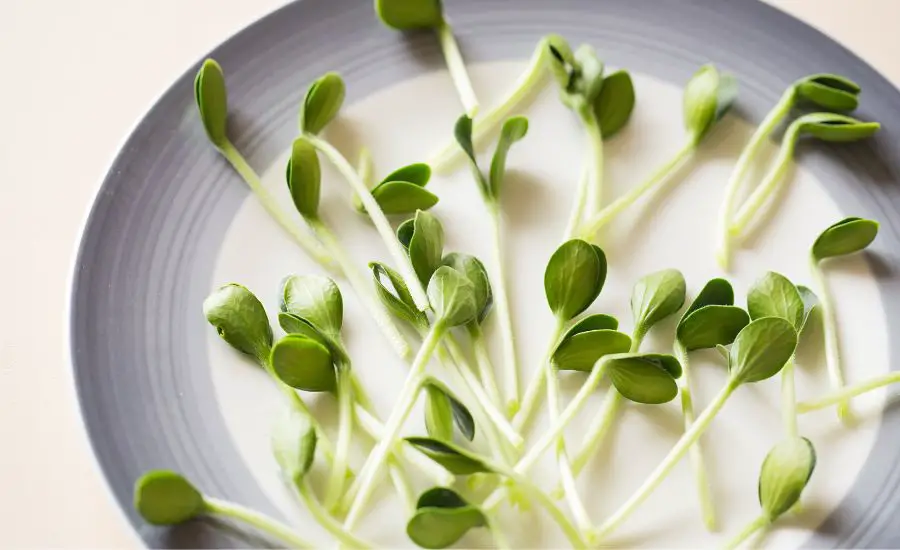 What can you prepare with microgreens?
Using microgreens in food is fun and easy. No matter if your recipe is simple or complicated, adding microgreens is always a good option.
So, let's look at what microgreens are good for:
#1. Salad ingredients
Adding microgreens is one of your best bets if you want to cook a delicious salad. Because of their unique flavors, these versatile greens can enliven even the simplest salad with minimum ingredients!
Any microgreens are good to combine with fruit and vegetables. If you keep a healthy diet and want to maximize the nutrition level in your food, adding microgreens is an ingenious idea for you!
You can vary the simplest recipe by adding some microgreens to it. Add some spicy greens like wasabi or Daikon radish, bring some texture with curly kale, or decorate your dish with some basil greens!
Most microgreens make a great match with different vegetables. For example, kale and broccoli microgreens fit perfectly for many salad greens. The same is about pea shoots that are incredible in combination with different vegetables.
Here are the coolest salad ideas where you can add microgreens:
Fresh salad with sunflower sprouts and arugula
Beet salad with pepper and broccoli microgreens
Spinach frittata
Radish and root salad with kale microgreens
Sunflower microgreens salad
Fresh vitamin salad
Purple cabbage and ginger salad
#2. Sandwiches and toasts
What can be more versatile and handy than having a sandwich snack? With a few of your favorite microgreen herbs, you can prepare plenty of creative snacks!
Don't be afraid to combine different tastes and ingredients! Microgreens work perfectly with many types of meat and cheese, Dijon mustard, fruit, and vegetables added to your sandwich. You can easily find the matching flavor for any ingredients you wish!
Think of these ideas of sandwiches with microgreens:
Avocado toasts with microgreens
Lettuce sandwiches
Lettuce wrap
Grilled sandwiches
Sweet potato toasts
Cheese and ham sandwich with microgreens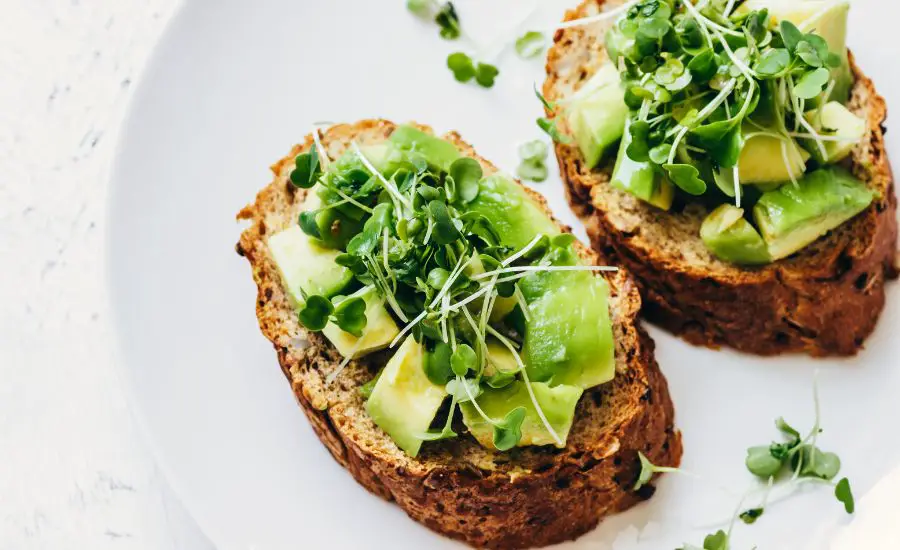 #3. Garnishes and additions
Being great accents in any dish, microgreens work great both as garnishes and as ingredients. You can make your favorite recipe absolutely unique just by adding some secret components!
Add microgreens to your favorite pasta dish, vegan dish, or BBQ dish. Bring unique flavor and texture to your food with a help of little tasty greens!
Try to cook any dish from the list below, and you will never regret it:
Pancetta with pea shoots
Spinach quiche
Spinach spanakopita
Linguine with sautéed tomatoes and mushrooms
Microgreen summer rolls
Vegan BBQ bowls
#4. Seasoning
Both fresh and dried microgreens are good if you want to season your dish. You can either vary the traditional dishes or opt for spicy Korean food that often calls for microgreens.
Season various foods with fresh or dried microgreens:
Kimchi soup
Cheesy crisps
Smoothies
Pies
Pizzas
#5. Smoothies and juices
Juicing is one more way to prepare microgreens.
By the way, juicing is one of the rightest ways to retain all the nutrients in your food.
Here are the most popular microgreens that you can juice:
Wheatgrass
Broccoli
Kale
Pea shoots
Drinking a mug of smoothie is a healthy and tasty option that contains microgreens. If you have never tried to prepare smoothies with microgreens, just do it right now!
Try the tastiest smoothies with these microgreens:
Beet
Broccoli
Kale
Spinach
Pea shoots
Purple kohlrabi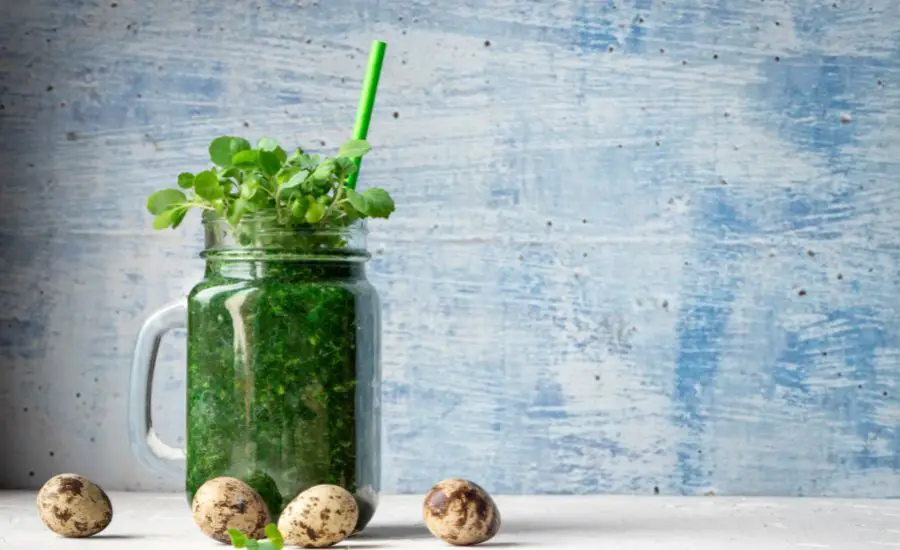 FAQ
Does cooking microgreens destroy nutrients?
The answer mainly depends on the types of nutrients.
For example, vitamin C is destroyed during the heating process. So, if you particularly need to get vitamin C, don't heat microgreens too much.
However, many antioxidants work oppositely with heat, as they are increased and released with heat. The heating process helps these nutrients to release and amplify while cooking.
Generally, any cooking process impacts the nutritional value of the microgreens. Here is a list of factors that affect the nutritional containment in the microgreens:
• Temperature
• Cooking time
• Water presence
An optimal way of cooking with microgreens is to keep a lower temperature while baking or sautéing. Avoid too high heat to keep as many nutrients as possible.
When you stir-fry, add microgreens at the very end. Shortening the cooking time helps you to save more nutritional elements.
How do chefs use microgreens?
Thanks to their unique flavors, cooking with microgreens is an extremely popular option. Chefs can add fresh microgreens as a garnish or topping to the cooked dishes, or cook along with microgreens.
Chefs often use microgreens in different dishes such as soups, salads, pizzas, stews, stir-fries, egg dishes, pasta dishes, potato dishes, sandwiches, and smoothies.
Can you use microgreens in a stir fry?
The answer is "yes"! Microgreens taste perfect when added to stir fry dishes. Many Asian microgreens varieties particularly match both stir fry and noodle dishes.
Here is a list of microgreens varieties that you can add to the stir-fry dishes:
• Daikon Radish
• Mitsuba
• Mizuna
• Pak Choy
• Purple Shiso
• Shungiku
• Tatsoi
• Wasabi
Final thoughts
Microgreens are easy and fun to grow, versatile to use, and super-tasty to eat! Switch on your fantasy and create your own unique dishes with these wonderful little greens.
Eating microgreens is always a great option for those who keep a healthy diet, love spicy and unique food, are fond of kitchen experiments, and look for something new and tasty.
You can eat microgreens either fresh or prepared, but don't forget about the easy tips that can help you to get all the benefits from them!